These are a few pictures taken with my Olympus D490Z.
I have put these pictures here to use as wall paper on my PC at work. Our IT guys have locked out the "set wall paper" facility but you can open an image in your web browser and use the "set as wallpaper" option after right clicking on the image. I have nothing against the default wall paper but it gets a bit boring when you end up staring blankly at the screen seeking inspiration.
I'll change the images when I have something better ( or when I can be bothered ! )
View from the flank of Grinshill Hill, Clive, Shropshire, looking towards Middleton Hill and Breidon Hill ( The one on the right ),Welshpool lies just behind and out of site, Sunday, August 5, 2001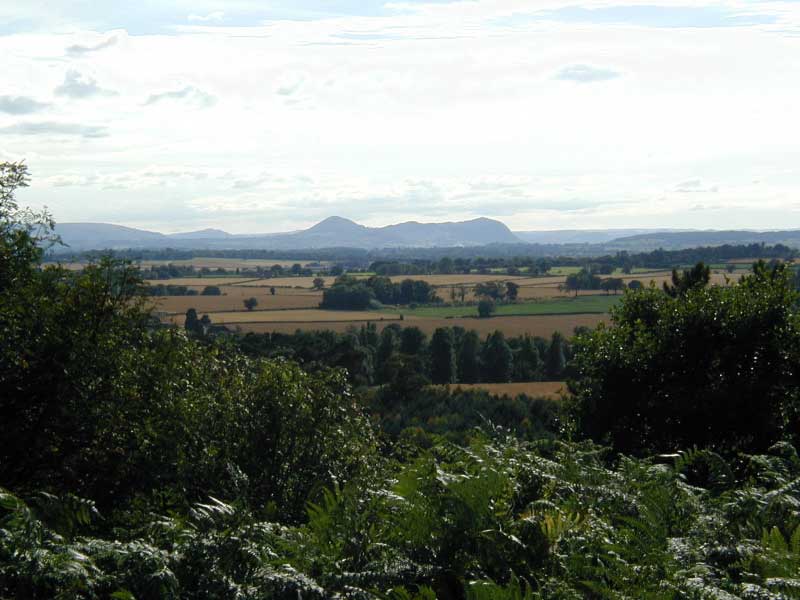 A large number of Swifts / Swallows sit waiting for the sun to wake up the bugs so they can begin feeding. Taken from my bedroom window one morning when the little so and sos were making enough noise to wake me up at about 05:30. Thanks guys...
To any bird watchers who might be thinking about telling me I'm wrong about the breed: Save your breath, I'm not that bothered. I don't need to know the Latin name to enjoy the beauty of their flight.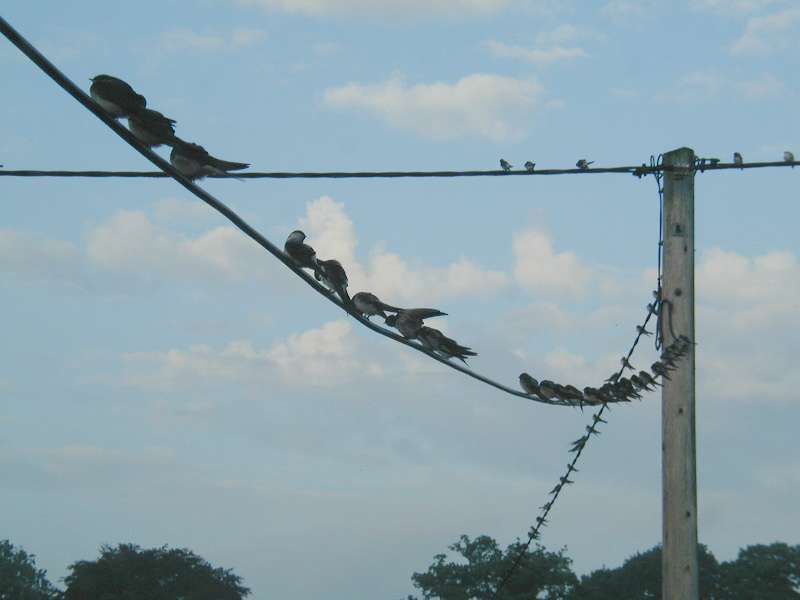 Another Grinshill Hill picture, taken from on top of the Triangulation point using the Panorama function on the D490Z. The software stitches the images together after downloading to the PC. I think this is probably the coolest bit of software I have come across for a long while. ( No, I don't get out much...) Taken on Sunday, August 5th, 2001.
Spot the person who appears twice.

A
A "half a yard of Ale" ( Courtesy of Handby Brewery, Wem, Shropshire).
There is only about a pint and a half of beer in the glass, not the three and a half pints in a traditional "Yard of Ale". The aim is drink it all in as little time as possible. I didn't set any records but I enjoyed every drop !
If ever you have to do this the trick is to keep turning the glass as you drink. This prevents the "glug" effect as air is admitted into the bottom of the glass and saves you getting a beer hair wash. It is considered bad form to vomit in the glass......
This was taken at a party to raise funds for The Royal National Institute for the Blind. A bunch of us will be abseiling 150 feet down the side of a building in Telford, Shropshire, on the 15th of Sept. 2001 to raise more.