Inside the Cat MEUI Injector : Injector Pump Assembly
(Click on the part to read about it)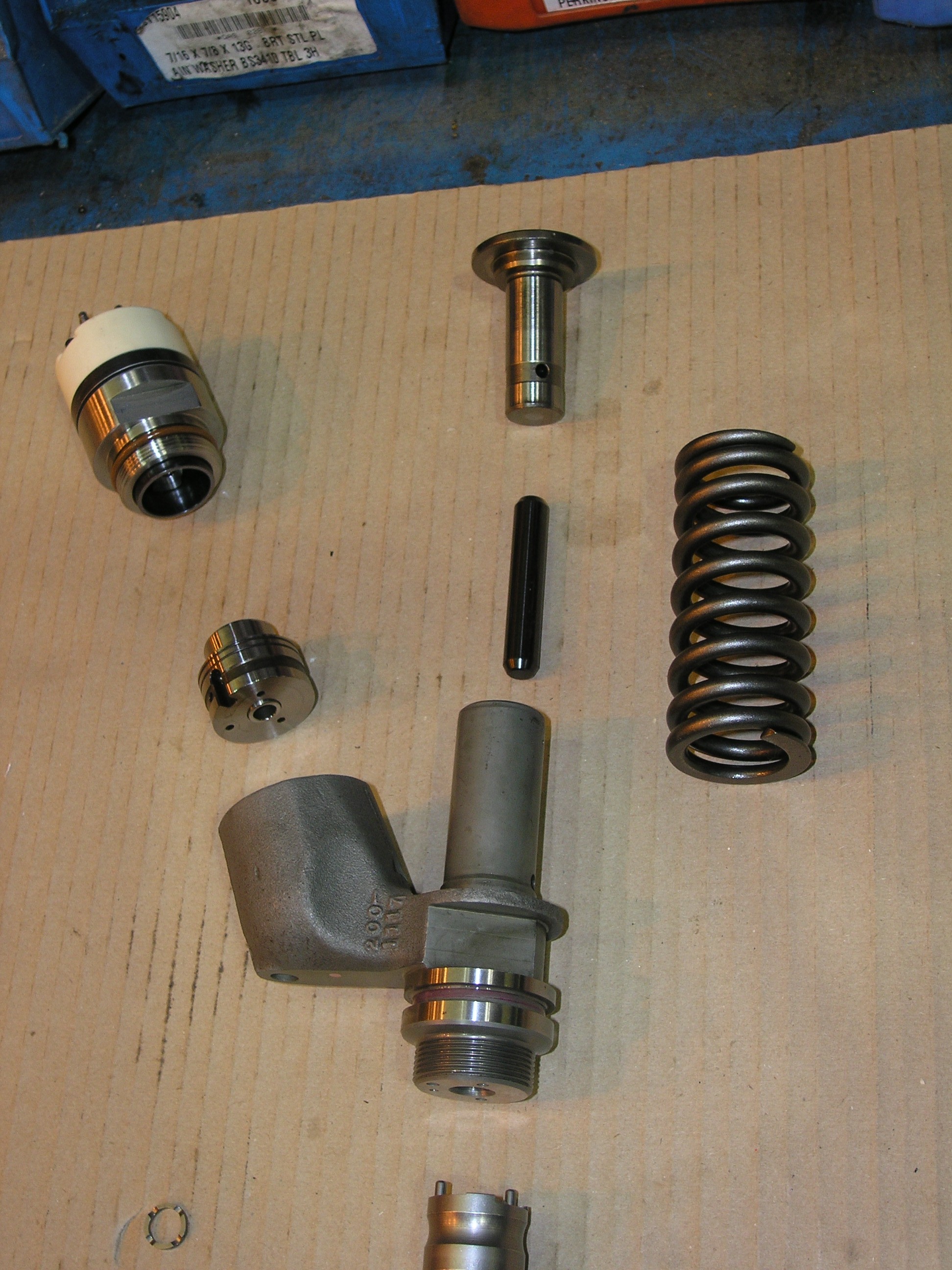 The pump body has several functions. It contains the housing for the solenoid assembly (the part pointing to the left in the photo), the mounting for the injector nozzle assembly (the threaded section at the bottom of the pump body) and the high pressure injector pump.
The body has various passage ways through it which carry fuel into the pump, to the injector nozzle assembly and through the solenoid spill control valve assembly.
The tappet pushes against the spring and the Pumping Element and transfers power form the engine's fuel pump cam to the fuel pump.
The spring acts on the underside of the tappet's head to keep it in contact with the fuel pump cam follower. If the tappet was not kept in contact with the follower then the follower would hit the tappet suddenly and damage the tappet and the follower.
The spring is very strong to ensure that the tappet and follower remain in contact even at high engine speeds.
The pumping element fits inside the pump body in a very closely machined bore (long hole). The pumping element is pushed down the bore and, during the injection part of the engines firing stroke, increases the pressure of the fuel supplied to the nozzle until the nozzle opening pressure is reached and the injector nozzle injects fuel into the engine. The pump continues to pump fuel until either it reaches the end of the pumping stroke or the spill control valve is signalled to open by the engine management unit (the engine's onboard computer). During the pumping phase the fuel reaches pressures of c. 2000 bar. This ensures good mixing with the air in the engine and clean burning of the fuel.
The pumping element is pushed back up the bore by the pressure of the fuel in the fill port (normally c. 0.5 bar pressure)